Up and coming octopus fisherman Philip Thompson has a familiar story – a young man who grows up in a small fishing town, Two Rocks, where the ocean and fishing are a way of life. Surrounded by friends and family who were fishermen, it's no surprise that Thompsons first job was grading crayfish in Lancelin.
That was just the start for Thompson, who at only 30 years of age had already spent twelve years of his fishing career working for some of the most respected crayfish skippers in Two Rocks – Ron Maloney and Basil Lenzo, and Trevor Darby who also fishes octopus. It was the experience with Darby that gave Thompson the knowledge and confidence to start octopus fishing himself, taking the leap a year ago to skipper his own vessel 'Ramblin Rose II' with just one deckhand.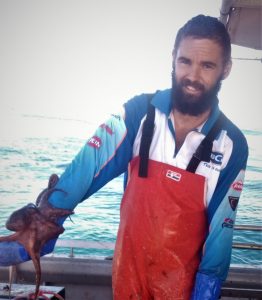 "My first year fishing for octopus has been challenging but very rewarding and I am proud that I have achieved my dream of becoming a skipper. I find great happiness while I'm on the ocean and so does my partner and our two sons. Having two boys who already love and respect the ocean as much as I do, I would encourage them to be part of this sustainable fishing industry," says Thompson.
What a year it has been for this 'young gun' of the octopus fishing industry. Currently contracted to Fremantle Octopus, who hold approx. 81% of all commercial octopus fishing licences in Zone 2, which stretches from Dunsborough through to Leeman, Thompson is leading the tally for biggest catch to pot ratio amongst the groups fishermen. His catch is only set to grow as the young skipper, who started with just 400 pots in July 2017 has steadily increased his pot count by 200 in October 2017 and then doubled that in February this year. Thompson also plans to have another 200 pots in the water by the end of the year.
Glenn Wheeler, Managing Director of Fremantle Octopus said it's an exciting time to be part of the octopus fishing industry, especially for the up and coming deckhands 'jumping ship' to skipper their own vessels like young Phil. From 2010 to mid-2017 the number of Octopus fishing boats operating commercially in WA remained reasonably constant at 14-16. Since June 2017 an additional 7 boats have entered the WA Octopus fishery, all operated by current or ex-cray fishermen or deckhands. That is an increase of some 40% in just the last 12 months as recently outlined in an article about the industry in The West Australian under Business News.
The WA Octopus Fishery is starting to be recognised as a rising star of the fishing and gourmet seafood markets. In the last 3 years the beach price of WA Octopus has increased from around $12kg to $16kg, an increase of more than 10% per annum. With the increasing demand for WA octopus from leading chefs and fine dining restaurants around the world it's likely we will see the beach price continue to grow over the coming years.
Fremantle Octopus aims to add an additional three new octopus fishing boats to their fleet between Lancelin and Leeman before Christmas 2018 and are forecasting an increase intake from 150 T in FY18 to 260 T in FY19.